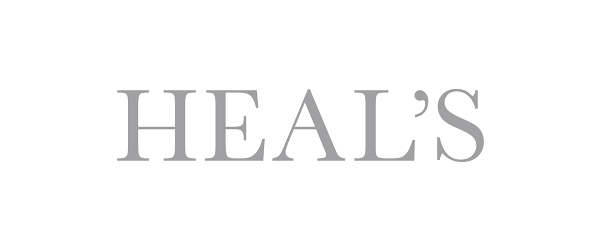 History
Heals is an iconic British brand for discerning lovers of great design.
Good design well made; this is the simple value that has made Heals such a revered retailer since 1810 and perfectly sums up their ethos.
Its heritage is steeped in the great artistic movements of the late 19th and early 20th century when it was one of the most famous furniture suppliers in England. The Heals name and reputation was built on quality craftsmanship, superior design and an aesthetic appeal which made their products highly desirable.
It remained a family run business managed by the Heals family as late as 1983 with the company managing all design, manufacture and retailing. The range grew to incorporate art and decorations making Heals one of the first lifestyle stores selling everything for the modern home.
The success of Heals has been put down to the achievements of Sir Ambrose Hill who worked for the company for 60 years, ultimately becoming Chairman. He is credited with creating the style and quality that has become the hallmark of Heals. He felt that good design and utility should not be the preserve of the higher classes and sought to create products that were highly crafted but affordable and in the popular styles of the day.
Today, Heals is world famous and highly influential as the embodiment of British design excellence.
The company continues to champion the best new design and designers and create beautiful high quality pieces that would grace any home.
Website
The Heals website, heals.co.uk, was launched in November 2000 and is more than just an online shopping site. Like the Heals stores, it has become a destination for fans of good design with lots of information about its designers, the history of the company, extensive notes about the architecture of the stores and the design legacy of its most popular product lines.
Users can find furniture and products for the entire home. The website also includes seasonal departments such as a Christmas shop and regular sales.
Heals periodically issue voucher codes and special offers that can be used against online purchases across the range.
Heals also use Feefo to monitor customer reviews. At the time of writing there was an impressive 92% rating from over 900 customers although it should be noted that these are only customers that have been engaged with the site enough to make a review. Heals serve many thousands of customers each year who receive excellent service but may not wish to write a review of their experience.
Heals also operate a very popular range of social media channels where you will find videos, pictures and information about popular products and events.
Heals Club
The highly popular Heals Club serves thousands of fans around the world. Members receive a newsletter detailing special offers, vouchers codes and promotions as well as the latest news, new collection launches, private events and sale previews.
Opening Times
Heals have been based in Tottenham Court Road in London since 1818. It is now the flagship store and a celebration of everything about Heals. The building is a renowned architectural triumph and a destination for lovers of contemporary design.
Heals now operate 6 stores in the UK with only one outside the south east. Other stores can be found in Brighton, Kings Road in London, Kingston upon Thames, Guildford and Batley in West Yorkshire. Each store holds unique events including food tastings, demonstrations, launches and special offers. Services also include interior design and bespoke furniture.
Store opening times vary so checking the Heals website is recommended. The Tottenham Court Road store is open 10.00-19.00 each day and 12.00-19.00 on Sundays.
Whilst Heals mainly sells its own products, it does also sell pieces by leading designers including Ercol, Tom Dixon, Vitra, Ligne Roset, Vi-Spring and Anglepoise. Heals offers a price match should you find the same product anywhere else.
Delivery Information
Given the wide range and sizes of products sold by Heals and its international appeal, there are a range of different delivery options for online purchases. Delivery to the UK takes 2-10 days for products and up to three weeks for furniture. Standard delivery is free for orders over £50 and £5.59 for orders under £50.
Specialist delivery is free for orders over £500 and £8.95 for orders under £500. Furniture is free for orders over £1000 and £50 for orders under £1000. International delivery starts at £8.95 and depends on product and destination. Heals do not currently offer a click and collect scheme but may introduce this soon.
Returns Policy
A full refund is given within 28 days of purchase although customers will need to organise postage. Refunds are not available on gift vouchers, food, mattresses or mattress toppers, duvets, pillows, personal grooming products, cosmetics and jewellery.